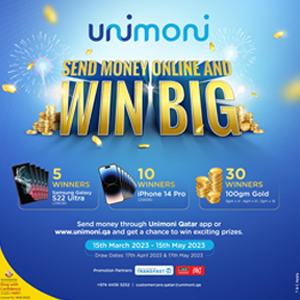 Send money online and WIN BIG
with Unimoni Qatar!
Send money through the Unimoni Qatar Mobile app or website to get a chance to win 10 iPhone 14 Pro (256 GB), 5 Samsung Galaxy S22 Ultra(256 GB) and 100 grams of gold.
Terms and Conditions of the Promotion:

Promotion period: 15 March, 2023 – 15 May, 2023.

Eligibility: Participate in the electronic raffle draw by sending money through Unimoni Qatar app or website. When the number of transactions increases, the participant's chance of winning increases.

Eligible Transactions: All online money transactions through the Unimoni Qatar app or website during the promotion period.

Winner Selection: Winners will be selected through two draws. Winners will be selected by random electronic selection in the presence of ministry representatives.

Draw Dates: 17 April, 2023 and 17 May, 2023

Winner Announcement: Winners will be announced at the Head Office of Unimoni Exchange LLC, Qatar in the presence of ministry representatives.


Prizes:
1 st Draw – 17 April 2023

Samsung Galaxy S22 Ultra (256 GB)


Samsung Galaxy S22 Ultra (256 GB)

All the prizes must be claimed on or before Aug 15, 2023.

Depending on the number of transactions, participants can win multiple prizes.

Prize winners shall be officially notified by Unimoni Exchange authorized staff using the customer information provided to Unimoni Qatar.

Unimoni Exchange, Qatar will never request the winners to pay any charges for claiming their prizes or ask for their bank account details or any other personal details.

By entering into the promotion, unless otherwise advised, each winner agrees that Unimoni Exchange may use their information on media platforms for future promotional, marketing and publicity purposes without any further reference, payment or any compensation to the winners.

The promotion will be governed by the respective regulation from the Ministry.

Unimoni Exchange employees and their immediate relatives are not eligible to participate in the promotion.